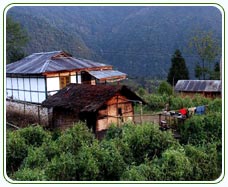 Sikkim is a bewitching place that allures people with its charming splendor. Every year, thousands of tourists come to this state that has a heavenly charisma. One need not worry about proper accommodation in Sikkim as there are numerous places to stay in Sikkim. In the past few years, tourism in Sikkim and India has been promoted to a great extent. Keeping in mind the needs of tourists, who come from all parts of the world, the best has been arranged to serve them.
In Sikkim, there are a few luxury hotels that provide facilities matching the international tastes of the visitors. The guests are treated in a pleasing manner with the finest services. Moreover, most of the hotels are located in such a way that tourist attractions are quite close to them. You can choose from the range of heritage hotels, luxury hotels, deluxe hotels, guesthouses or budget hotels as per your convenience and budget.
Sikkim Hotels are comparatively cheaper than the hotels in other parts of India. It doesn't mean that you would have to compromise in facilities provided by the Hotels. Everything is just perfect, harmonizing with the beautiful surroundings of Sikkim. The flawless services offered by these hotels make them just the right place to stay for one's trip. Plan a trip to Sikkim and see yourself the immaculate hospitality granted by the hotels of Sikkim.
Places to Stay in Sikkim
Heritage Hotels
Norkhill Heritage Hotel, Paljor Stadium Road, Gangtok
Himalayan Heights Hotel, Palzor Stadium Road, Gangtok
Luxury Hotels
Tibet Hotel (3 Star), Paljor Stadium Road
Chumbi Residency, Tibet Road
Tashi Delek Hotel (4 Star), Gangtok
Hidden Forest Retreat, Lower Sichey Busty
Deluxe Hotel
Tashi Gang Resort, Yangtey near Peling, West Sikkim
The Bliss Resort, Biksthang, Mangalbarey, West Sikkim
Hotel Golden Pagoda, M.G.Marg
Golden Heights, M.G.Marg
Hotel Tashi Tagay, Tadong, Gangtok
Hotel Bayul, M.G.Marg
Hungry Jack, National Highway - 31 A
Hotel Mount Simvo Tadong, Gangtok
Middle Sichey, Gangtok
Tashi Ghang Hotel, Yuksom
Budget Hotels
Kewzing Home
Shilton Lodge, Palzor Stadium Road
The Himalayan Retreat cum Resort, Sichey, Gangtok
Mintokling Guest House, Gangtok
Primula Lodge
Yangsum Farm, Rinchenpong, West Sikkim
The Bliss Resort, Mangalbari