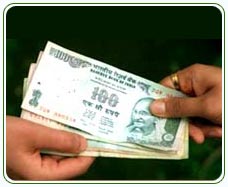 In the vein of other places in India, tipping in Sikkim is common as well. Many a times, it is all the more anticipated that individual must give tips at certain places. It is not mandatory to give tip, but it has become a usual practice. Tips are generally given to guides, drivers and porters. There is no specific rate regarding what to pay in tip. It entirely depends on your wish. Nonetheless, the amount of tip to be granted bank upon the kind of services delivered. In the following points, there are some tipping guidelines to acquaint you with "How to tip in Sikkim":
If you are having lunch or dinner in a hotel, then a tip of approx 10-15 % is expected by waiters. For restaurants, it lies between 10-20 rupees, relying upon the kind of ambiance and service.
At the time of leaving, tips are also supposed to be given to the gatekeeper as well as the room service staff.
Moreover, don't forget to give tip to the tourist guide, in case you have hired one.
If you have hired a taxi for quality number of days, then you must give a tip to the driver, ranging between 50-100 Rs.
In case, you are residing at someone's place, tip is expected from you by their household servants before leaving. However, consult your host first whether to give or not and if yes, then, how much to give.