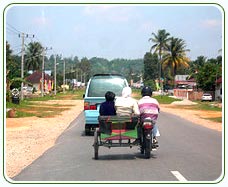 Sikkim has sufficient means of transport, thus it is not a problem to move around the state. In Sikkim, you will not come across black and yellow taxis that are usually observable in the metropolises. If you are planning to tour the state, keep your worries aside regarding local transport in Sikkim. Throughout the state, you can hire cars/ cabs that are obtainable in variety, ranging from luxurious cabs to standard ones. You can choose a cab according to your choice, comfort and budget.
Being located in hilly area, it is preferable to take jeeps or heavy cars. The taxis/ cabs can be hired for a single or many days, for sightseeing purposes and excursions as well. The inhabitants of Sikkim usually prefer walking, since the state is divided into many districts and small settlements. It is feasible for them to roam around the region on foot. To get a little comfort, people have maintained scooters or bikes that can afford to cover smaller distances.
On Gangtok-Siliguri Highway, you can trace many private taxis, jeeps and land rovers that move here on regular basis. These means of transport can be hired to reach Gangtok, Siliguri, New Jalpaiguri Junction (Railway Station) or Bagdogra (Airport). If you want to opt for reliable sources, then government tourism bureaus are the best to trust upon. Totting up the situation, there are enough taxis and cabs in Sikkim, to ensure tourists a comfortable and relaxing trip.