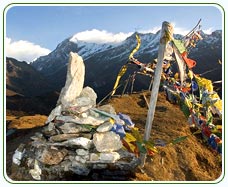 The west district certainly boasts some of the best tourist attractions in Sikkim. The prime location of this district is distinctly ahead of others in terms of its proximity to Mt. Kanchenjunga, the third highest peak in the world. In order to have a smooth administration, Geyzing (Gyalshing) serve as the headquarters of West Sikkim District. The major tourist attractions have been covered in our related sections for you to check out.
The temperate climate of the west district allows people to live and sustain their lives with a tad of agriculture. The extreme west is quite mountainous, which too offers this place a great trekking zone for trekkers. Initially, the places were not open for tourists, but in the recent times, things have got changed and now, almost each and every part of the district is accessible by roads.
In the west district, there are many tours that you can take and enjoy the striking environs of the places. West Sikkim District is a beautiful region with stunning mountains, picturesque sight-seeing points, ancient monasteries and historical spots that depict the cultural legacy of Sikkim. The region is an ideal place to trace the nature in its full bloom. In this section, we will discuss the major tourist attractions of West Sikkim district in detail.
Sanga-Choeling Monastery
The renowned Sanga-Choling Monastery is to be found on a ridge above Pelling. The literal meaning of 'Sanga Choeling' is 'the island of esoteric teaching'. The spiritual island was built in 1697 and perhaps making it one of the oldest monasteries of Sikkim.
Legship
On the banks of Rangit River, Legship is a hamlet known for a Hindu shrine. This shrine is dedicated to Lord Shiva. In the month of November, the festival of Bala Chaturdesi is observed here. Apart from the religious significance.
Biksthang
Near Pelling, Biksthang is a small hamlet in West Sikkim. Biksthang is also known by the titles of Chuchen and Mangalbaray. The peaceful, calm, serene and soothing beauty of this place is getting acknowledged by people gradually.
Reshi Hot Springs
At a distance of 25kms from Geyzing, Reshi is a nice place to explore. Reshi is small town famous for its hot springs. Close to River Rangit, Reshi Hot Springs are generously pouring the waters for the benefit of mankind.
Soreng
Soreng is a small town in the West Sikkim. The place is famous for its extensive variety of flowers and birds. From Pelling, it is located at an estimated drive of 4 hours. If you are coming from Melli, then it would be a 3 hour journey.
Rinchenpong
Rinchenpong is another tourist attraction in West Sikkim. The marvelous location of Rinchenpong offers a spectacular view of mountains, sunsets and sun rise. The old Resum Monastery is also sited here. People enjoy coming to this place for its rich flora, fauna and soft trek routes.
Dudbi Monastery
This old monastery was built shortly after the coronation ceremony of first Chogyal at Yuksom. Ideal place for meditation, Dubdi Monastery can be reached by a trek of 35 minutes through steep slope.