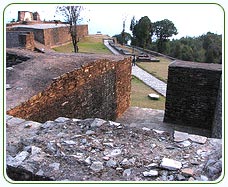 Rabdentse was acknowledged to be the second capital of Sikkim. With the passing time, Rabdentse was desolated and ravages of time turned the royal capital into ruins. Located in West Sikkim district, Rabdentse is regarded as an archeological site that truly peeps into the history of Sikkim. Rabdentse ruins have been preserved by the Indian Archeological Society. Today, the ruins of this ex-capital of Sikkim act as a tourist attraction reminding the royal aspect of this place.
Rabdentse Ruins are not observable from the main road. The place is easily accessible from Pemayangtse Monastery or you can also trek through a two kilometer path amidst the forest that starts from Pelling and goes till Geyzing. While strolling on this path, you would definitely enjoy the green thick forest around. Actually, it lies a little below Pemayangtse Monastery and the same path takes you to the monastery too. You can easily trace Steppe eagle, Chestnut-crowned Warbler, Rufous-capped Babbler, Black-eared Shrike Babbler and Dark-breasted Rosefinch while walking through the forest.
On reaching the site, you can see the ruins of the Palace that used to be the abode of Sikkim monarchs. From the top of the monument, you can witness the picturesque sight that scans across the subterranean valley to the baffling heights of Khangchendzonga. This vista is incredible and something that would become a memorable part of your reminiscences. Tourists come to visit these palace ruins to get the glimpse of Sikkim's history, while enjoying the striking landscape as well.