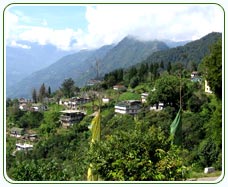 Geyzing is the beautiful capital town of West Sikkim District. Being the headquarters, Geyzing acts as the initial point in the western part of Sikkim. Geyzing is also called as Gyalshing. Located at a distance of 117 kms from Gangtok, Geyzing is the most populated area of the western region in Sikkim. In the vein of other beautiful places in the region, Geyzing too has the essence of natural beauty in its environs.
Gyalshing or Geyzing is well-connected to Gangtok by means of regular buses and jeeps. For more comfortable journey, you can also opt for private taxis that are available all over the state. Geyzing is an important town, so the place itself is also directly connected from places like Darjeeling and Kalimpong via Jorethang. Throughout the section of West Sikkim tours, we have given the directions and distance from Geyzing to keep you at ease.
At an altitude of 6,500 feet (1,900 m), Gyalshing observes a temperate climate for most of the year. In the close proximity, Geyzing enjoys snowfall in the winter season. Geyzing is also imperative in the terms that it provides the ideal base for trekking and mountaineering expeditions in the Himalayas. Geyzing is definitely a place that requires a visit to experience its beauty.