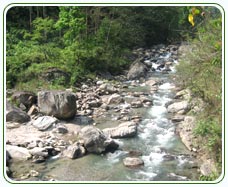 Khecheopalri Lake is a tranquil lagoon amidst the dense forests in West Sikkim. Located at a distance of 30kms, Khecheopalri Lake can be easily reached from Geyzing via Pemayangtse. The significance of Khecheopalri Lake lies in the fact that it is worshipped both by the Buddhists as well as the Hindus. The placid waters of this lake appear to comprise a celestial charisma. Pilgrims and tourists from all parts of the world come to visit this sacred lake.
Khecheopalri Lake is a consecrated lake that remains concealed under a thick forest cover of temperate vegetation and bamboo. The striking fact about this lake is that it remains leafless, despite the fact that it falls in a forested area. It is believed that the native birds do not let a single leaf floating over the lake surface. As soon as leaves fall on the water surface, the birds pick them up, keeping the waters neat and clean.
Khecheopalri Lake is also known as the 'Wishing Lake'. During February-March, a grand festival is celebrated here. Owing to its holiness, only prayers are allowed around the lake. One can trace Lepcha houses in the environs of Khecheopalri Lake. An interesting highlight of this lake appears when it is observed from a high vantage point; it gives the impression of being the footprint of Lord Shiva. Khecheopalri Lake is certainly worth visiting.
As per the local folklore, the place used to be a grazing ground. One day, people saw conch shells falling on the ground. Subsequently, the ground shook furiously and water emerged at this place from below. This lead to the formation of Khecheopalri Lake, centuries back. If you want to spend quality time at this lake, there is a cottage managed by the tourism department to make your stay comfortable and cozy.