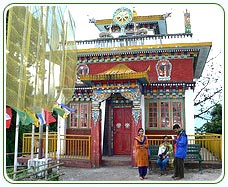 Pemayangtse is a small town that boasts of one of the oldest monasteries of Sikkim. Pemayangtse can be termed as a hub of religious activities of the Buddhists in Sikkim, India. Pemayangtse Monastery gets the major attention owing to its origin and religious significance. Elevated at the height of 2085 meters, Pemayangtse Monastery is positioned at a distance of 6 kilometers from Geyzing, the headquarters of West Sikkim District. One can easily reach the monastery by taking regular buses or by hiring private taxis from Geyzing.
In 1705, Pemayangtse Monastery was built by Lhatsun Chempo (one of the Lamas who performed the consecration ceremony of the first Chogyal) for the 'ta-sang' lamas (the purest of the monks). The monastery had been the leading monasteries, where all religious activities of the monarchs took place. Made out of wood, the edifice of the monastery looks divine along with Mt. Kanchenjunga as its surrounding landscape. The exotic surroundings add to the spiritual ambiance of Pemayangtse Monastery.
Initially, the monastery was meant only for 'Pure Monks', but eventually monks from all classes got the right to enter it. Pemayangtse Monastery is the focal point of the Nyingamapa sect, a Tantrik sect of Buddhists. The followers of this sect sport in red caps, whereas yellow caps are the usual ones in other monasteries. During the reign of Chador Namgyal (the third Chogyal), the present structure of the monastery was built by Lama Jigme Pawo. The literal meaning of 'Pemayangtse' is a 'Perfect Sublime Lotus' and the place actually is one.
Inside the monastery, the walls are decorated with traditional frescoes representing various themes of Tantrik Buddhism. Pemayangtse Monastery encompasses a rare assortment of ancient Buddhist antique idols, carvings, scriptures and sculptures. The highlight of the monastery is made by illustration of 'Sangthopalri' or Heaven that is artistically sculpted on wood by Dungzin Rimpoche himself. Every year, 'Chaam' (Mask Dance) is organized here, which attracts people from all parts of Sikkim to Pemayangtse.