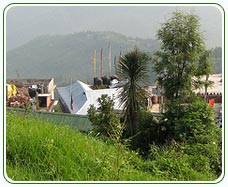 Pelling is a beautiful hill-station, nestled between the snow-covered peaks of Sikkim. Located at a distance of 10kms from Geyzing, Pelling is renowned for being the nearest site to Mt. Kanchenjunga. The scenic beauty of Pelling cannot be circumscribed in words and really requires a proximate look to feel the quietude. Elevated to the height of 6,800 ft, Pelling is the best place to get a close view of the entire mountain range.
Pelling is a small township that is getting popular for its ultimate natural beauty. The hill-station offers a panoramic view, where clouds, snow and rocks appear to be a figment of your imagination, since they look perfect. Apart from its natural beauty, the attractions in Pelling include Sanga-Choeling Monastery that is reachable after a casual walk through a steep hilly slope. Pemayangtse Monastery and Khecheopalri Lake are other attractions, which are discussed in our other sections.
Want something more to enjoy your holiday? Visiting the Sangay Waterfall is a nice idea that lies at a distance of 10 kms from Pelling. Here, you can get pleasure from the drizzle of waterfall, while standing on the bridge. Another plus point of Pelling is that it is connected with Siliguri and Gangtok as well, so if you just want to flee for some time from your strenuous routines, you can directly go to Pelling from Siliguri.
The hamlet had been trivial for past many years, but with the increasing inflow of tourists, Pelling is gradually turning into a full-fledged town. However, the natural charm and splendor of Pelling is not fading with the arrival of concrete edifices owing to the green forests. There are many waterfalls, soft trek routes, villages and gentle ambiance that will keep you betrothed in Pelling. It is for sure that you would certainly like to spend a quality time at this place amidst beautiful thoughts.