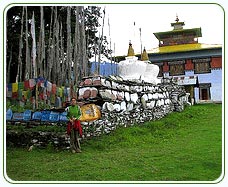 Tashiding Monastery is an important and popular monastery amongst the Buddhists of Sikkim, India. Located at a distance of approx. 40 kms from Geyzing, Tashiding Monastery can be easily reached by regular buses or taxis from the town. The Monastery or Gompa looks stunning with an astounding backdrop served by Mt. Kanchenjunga. Perched on a heart-shaped hill, Tashiding Monastery was built by Ngadak Sempa Chembo (one of the three Lamas who performed the consecration ceremony of the first Chogyal) in 1717.
The Monastery has a holy chorten (stupa) known by the name of 'Thong-Wa-rang-Dol' that literally means 'Saviors by mere sight'. It is believed that a mere glimpse of chorten washes away one's sins. As per the Buddhist scriptures, Guru Padma Sambhava (commonly known as Guru Rimpocha) sanctified the lands of Sikkim at this point in the 8th century. The colorful flags, fluttering in the air, create a divine sound effect in the monastery complex.
In the monastery, you can see 'manis' (stone plates) that are engraved with holy Buddhist mantras. The main sanctum sanctorum stands surrounded by old edifices, stupas and stone plates. The stupas are carved with the inscriptions of Sikkim Chogyal (monarch) and lamas (preists). Tashiding Monastery is also famous for its celebration of Bumchu, a unique festival that is discussed in our festival section. The divine aura and celestial landscape of Tashiding Monastery allure people to come here from all over the world.