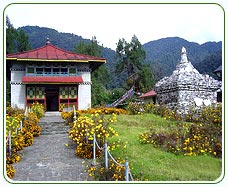 Yuksom is a holy town enveloped in the sublime beauty of nature. The very first sight of this fascinating place brings you the thought of the Almighty, who can be the only one to create such a paradise. Located at a distance of 40 kms from Geyzing, Yuksum had been the ancient capital of Sikkim. The serene and tranquil atmosphere of the town, attract people to come here and spend some time in solitude, pondering over the splendor of nature.
Sited at an elevation of 1780 mt, Yuksum is famous for offering the best trekking start-off point for high altitude trekking. The term 'Yuksom' literally means 'the meeting place of three Lamas'. Yuksom, being the first capital of Sikkim, observed the coronation ceremony (1641 AD) of the first Chogyal (monarch) by three great Lamas. The coronation throne made of stone, still boasts of the royalty, perhaps with the passage of time, it has got ravaged.
In the vicinity of Norbugang Chorten, this throne is positioned along with the foot print of Latsun Chembo (one of the lamas who consecrated the king). Yuksum also possesses Dubdi Monastery, which is the oldest monastery (300 years old) of West Sikkim. Yuksom embraces the bewitching Kartok Lake, which is really worth-visiting. At a distance of 9 kms from Yuksom, one can also trace the 'Phamrong' waterfall, an amazing play of water with rocks.
Despite the fact that Yuksom was the birthplace of Sikkim's Buddhist Civilization, it has been under developed since ages. Perhaps, the main reason could be its seclusion from the center and losing its capital status long back as well. In the recent years, tourism has been promoted to a great extent in Sikkim. Owing to this fact, Yuksom has become an axis for trekkers moving towards Dzongri. Eventually, Yuksom is now getting the recognition it deserves and people come to this town to splurge in its tranquility.