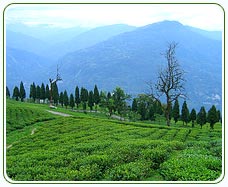 In the vein of other districts of Sikkim, the South district is not behind in any case whether talking about its natural splendor or fresh towns. Namchi, being the headquarters of the South Sikkim district, enjoys the authority over the region. The striking tourist attractions of the district offer many reasons to visit the place for once. Subsequently, there are many tours that can be taken in South Sikkim.
After East Sikkim District, this is the only district that embraces a major part of Sikkim's population. On account of accessibility of plain lands, South district is also the most commercialized district of Sikkim. Temi Tea Garden distinguishes the South district for being among the leading tea producer of India. Ranging between the altitudes of 400 meters to 2000 meters, South Sikkim District observes temperate climate for most of the time.
There are numerous sight-seeing points, monasteries, gardens, hills, waterfalls and trekking zones that really allure anyone to come here. The natural splendor in the district is not less bewitching and engages the spectator in its heavenly charm. In this section, we will discuss the various tourist attractions of South Sikkim to give you a comprehensive idea about the touring places. Read further to know about the tours to South Sikkim in India.
Borong
Borong is a small hamlet amidst the snow-cloaked mountains peaks in Sikkim. Below Maenam Hill, Borong is a beautiful place that presents a clear view of Mountains. Borong can be reached from Ravangla by a solitary trek via Maenam.
Singchu Thang
Elevated to the height of 3,500 ft, Singchu-thang is an ideal picnic spot. Literally, 'Singchu-thang' means 'the plain over grown with dwarf fish plants and shrubs'. On the banks of Teesta River, Singchu Thang is favorite place for white water sports.
Phur-Tsa-chu (Hot Springs)
Actually, Phur-Tsa-Chu means hot springs in Sikkimese language. Located at a comfortable distance of 4 kms from Legship, Hot springs are famous between the residents of the region. The water of these springs are said to have medicinal values and can cure many skin problems.
Jorethang
Jorethang is an important town in West Sikkim district. It lies at a distance of 30 kms in the north of Darjeeling. Sited on a flattened land, Jorethang is also nestled between the huge mountains and hills in Sikkim.
Sikip
Sikip is another destination that is getting renowned due to its serene atmosphere and great hide-out. Perched on the banks of Rangeet River, Sikip boasts of beautiful natural surroundings and makes a brilliant fishing spot and river campsite.