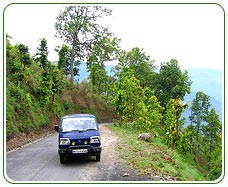 Ravangla is a small town that is impending tourist destination in South Sikkim District. Ravangla is getting popular owing to its spectacular background and serenity. Located at an altitude of 8,000 ft, Ravangla is one amongst the few places that offer a composed view of snow-covered mountains. Mt. Kanchenjunga, Mt. Pandim, Mt. Sinialchu and Mt. Kabru are some of the peaks that are observable from Ravangla.
Ravangla appears in a romantic atmosphere, when myriad flowers envelop the whole town in a colorful sheet during the months of April to May. Despite the fact of its scenic beauty, Ravangla is all the more famous for being a great start-off point for short treks. The trails that leap and wind through the Oak, Pine, Rhododendron, Magnolia and Fir forests, will take you to the picturesque Maenam Hill. A trek to Maenam Hill from Ravangla takes around 4 hrs.
A further trek of 1.5 kms will bring you to Valedunga, which is hilltop presenting a stunning view of the neighboring mountains. The whole trek route passes through the Maenam Wildlife Sanctuary that embraces a rare assortment of Himalayan species. From Ravangla, one can also engage in excursions to Rayong Sunrise View Point, Ralang Hot Springs, Ralong Monasteries, Borong, Mangbrue Monastery, Tendong Hill, Temi Tea Garden and Maenam Hill.