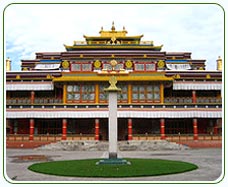 Ralang Monastery portrays the true spiritual side of Sikkimese people. Located at a distance of 6 kms from Ravangla, Ralang Monastery is easily accessible from Namchi via Ravangla in South Sikkim district. Ralong Monastery is regarded as the one amongst the most significant and most consecrated monasteries of Sikkim. The Monastery was built to commemorate the successful pilgrimage of the fourth Chogyal to Tibet.
Actually there is a legend behind the establishment of this monastery. The legend says that when the fourth Chogyal returned from his pilgrimage (Tibet), Karmapa performed the 'Rabney' (traditional blessing). Following the rituals, he tossed some grains from the Tsurphu Monastery in Tibet (the main seat of Karmapa). The grains fell at the site, where Ralang Monastery is standing today. The original monastery is located at a distance of 13 kms from Ravangla. The way to this monastery is quite difficult and trekking is the only way to reach the monastery.
In 1995, a new monastery was built, so that people could reach the religious place easily. Built by the 12th Gyaltsab Rimpoche, Ralong Monastery is the magnum opus of Tibetan architecture. This new monastery is also known by the name of 'Palchen Choeling Monastic Institute'. In the present day, Ralang Monastery is acclaimed to be the biggest monastery in Sikkim, India. The Monastery also embraces a stunning collection of paintings.
Every year, Ralang Monastery hosts the festival of Pang Lhabsol. We have discussed this event in our section of festivals in Sikkim. Kagyed Dance performed by the monks, becomes the highlight of this event. In the month of November, 'Mahakala dance' is also organized here to celebrate the religious reasons. Ralang Monastery is visited by multitudes of tourists and pilgrims, who come to receive the blessings of the Almighty.