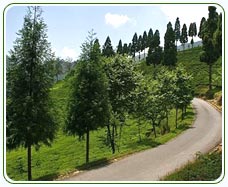 Namchi or Namtse is renowned for being the headquarters of South Sikkim district. The term 'Namchi' literally means 'Sky High'. Sailing high on hills, Namchi offers a commendable view of Darjeeling, Kalimpong and the snow-cloaked mountains. For going on South Sikkim Tours, hiring transport from Namchi has been recommended for the convenience of travelers, since it is the headquarters of South Sikkim.
Namchi lies at a distance of 78 kms from Gangtok, the capital of Sikkim, India. The town is well-connected to Gangtok by metalled road. Namchi is easily accessible from Gangtok by means of regular buses and jeeps. Not only Gangtok, Namchi can be directly reached through Siliguri (located in West Bengal) that lies at a distance of 100 kms. Namchi is a nice place to spend a short holiday.
Perched at an elevation of 5500 ft, Namchi is becoming popular amongst the tourists owing to its beautiful environs and short excursions that the town offers. Namchi boasts of the famous statue of Samdruptse (Guru Rinpoche) that is not less than 118 ft in height. Namchi also embraces the famous Rock Garden, Cottage Industry, Doling Gompa and Namchi Monastery.
Namchi is also celebrated to be the only town to encompass a stadium at such a height in Sikkim. The Stadium was built to honor Baichung Bhutia, the famous footballer of India. Namchi also becomes the venue for the highly acclaimed annual flower show that takes place in February. For trekking expeditions in Southern part of Sikkim, Namchi makes the perfect base too.