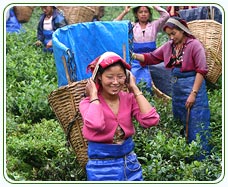 Temi is synonymous with Tea Garden, which is the sole tea estate in Sikkim. Temi Tea Garden sprawls on a moderate hill slope along the highway, covering an area of 435 acres. The Garden also touches the bottom of the renowned Tendong Hill in West Sikkim district. Temi Tea Garden has made its mark in the International markets of tea. The Garden produces the finest quality of tea, which is famous for its taste combined with fragrant aroma.
Established in 1965, Temi Tea Estate was built over the ruins of a forestry office and nursery. Temi Tea Garden has been acclaimed as one of the best tea producing estate in India. If you are interested to know about your energizing cup of tea every morning at your bed, check out the factory, where you can see the whole process of making tea granules from tea leaves. Tea Board of India has awarded the garden with 'All India Quality Award' for two consecutive years in 1994 and 1995.
The exotic taste of Temi's tea has brought the estate on the apex today. From the top of this tea hill, you can truly enjoy the panoramic view scanning the whole area from neighboring villages to trees. In the close proximity of Temi Tea Garden, there is an old British bungalow that was built by Scottish missionaries in the early 20th century. In the present times, this bungalow serves as a guest house for the visitors. A visit to Temi Tea Garden, while trekking to Tendong Hill, is a nice idea to think about.