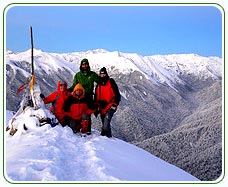 Dzongri is known to be one of the best trekking destinations in India. Located in the South Sikkim district, Dzongri is perhaps the place, where you can virtually see the snow-covered mountain peaks touching the skies. At the baffling height of 4200 meters, Dzongri can be only reached by trekking that starts from Yuksom. In the recent years, Dzongri has been promoted for the purpose of trekking to increase tourism in Sikkim.
The mystic landscape of Dzongri substantiates that the Heaven is here and nothing could be more beautiful than this place. The snow white peaks encircle Dzongri with their majestic appearance. It is for sure that once seen the beauty of this place, you can never forget the splendor throughout your life. In order to reach here, you might have to take some pains in trekking, but once you reach, all your weariness would be gone at the glimpse of those glittering peaks.
The spectacular scenes, which you have seen in books or pictures, would be right there in front of you. The mountains, with white and green patches, look stunning with the light blue shades of an abstract etching. Elevating to a height of more than 20,000 feet, there are at least 14 mountains in the proximity. During winters, snowfall is a common sight in the area. Being located on a high altitude, Dzongri has arctic weather and temperature can go below freezing point anytime round the year.
The trek to Dzongri can not be stated as an easy one. For experienced trekkers too, it proves to be a strenuous journey. It is advisable for aspiring trekkers to start with regular fitness exercise, in any case a month before going for this trek. The minimum time to trek Dzongri takes around 5 days. The trek to Dzongri starts from Yuksom, proceeding to Bakhim, Tshoka, Thansing, Gocha La and leading eventually to Dzongri.