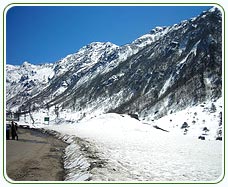 Tsongmo Lake has perhaps one of the most beautiful landscapes in Sikkim. On the Gangtok - Nathu La highway, Tsomgo Lake is situated at an altitude of 12,400 ft. Also known as Changu Lake, Tsongmo Lake is regarded as a very sacred lake by the local Buddhists and the Hindus. Tsomgo Lake extends to 1 km in length, deepens to 15 meters and happens to be oval in its shape.
In Bhutia language, the literal meaning of 'Tsomgo' is 'source of the lake'. In fact, the etymology tells that 'Tso' means 'lake and 'Mgo' means head. The lake is a residence to migratory birds and brahmini ducks. From winters up to mid-May, the lake remains frozen. In the summers, Tsomgo derives its placid waters from the melting snow of the mountains around.
Between the months of May and August, you can trace a variety of flowers including rhododendrons, primulas, blue & yellow poppies, irises etc. blooming on the banks of Tsomgo. 40 kms from Gangtok, this beautiful lake falls in the restricted area and subsequently, an inner line permit is a requisite to visit this holy lake.
Owing to promotion of tourism in Sikkim, local residents have arranged shops that sell yak cheese, trinkets and local curios here. You can also have the fun of enjoying Yak Ride at this place. To add more enjoyment in your trip, a pavement along the lake takes to a quiescent shed, where you can spend some time relaxing and enjoying the natural splendor.
On the banks of Tsomgo Lake, there is a small temple dedicated to Lord Shiva. The serene Tsongmo Lake is also the groundwork of Lungtze Chu, which further meets Rangpo Chu down in its course. Earlier, the Lamas used to read the color of waters and predict about the future. On the whole, Tsongmo Lake is definitely worth-visiting on your trip to Sikkim.