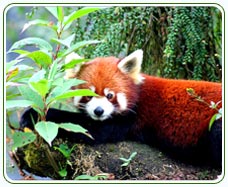 Himalayan Zoological Park is certainly a place for wildlife lovers in Sikkim. The Park has been established, to preserve the wildlife, without disturbing the creatures and keeping them in their natural habitat. Located in Bulbuley, Himalayan Zoological Park is at a distance of 3 kms from Gangtok. At an altitude of 5,840ft (1,780 mtrs), the Zoological Park also tenders a splendid view of Mt. Khangchendzonga. This Park sprawls in an area of 205 hectares in the mountainous terrain.
Established in 1991, Himalayan Zoological Park is the first park of its kind in the North-Eastern part of India. The Park accomplishes the perception of modern zoo, where the animals are kept in replicated natural conditions. Most of the part of the Park is covered with forests that house Musk Deer, Blue Sheep, Himalayan Black Bear and Barking Deer and Red Panda. It is a kind of an open zoo, where you can trace animals. The Government is planning to get a Ropeway, which would be a fun ride to go around the Park.
A pavement has been made that passes by hedged open-air enclosures. These enclosures cuddle Red Pandas, Barking Deer, Panther, Himalayan Palm civet, Leopard Cat, Tibetan Wolf, Barking deer, Common Langur, Goral Spotted Deer and Bears in a partly natural habitat. Many a times, it is possible that you could not see these animals since the enclosures are spread over a huge area. One is required to keep patience in such a case to get a sight of them. The best time to visit this sanctuary dangles in the months between Mid- February to May and Mid-September to December.
The Government of Sikkim under the Department of Forest, Environment & Wildlife is controlling the authority of Himalayan Zoological Park. The authorities are also planning to keep, the Himalayan species of animals and birds that are found in high lands in the near future. The objectives behind the promotion of this park are to spread awareness amongst people regarding wildlife, promote education, research and eco-tourism for employment. Himalayan Zoological Park is actually a nice place to observe animals amidst the backdrop of thick bushes, shrubs not less than forests.