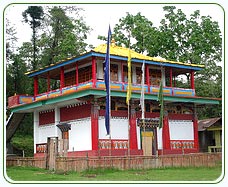 Phodong Monastery is one amongst the six most important Buddhist monasteries in Sikkim, India. Perched on an altitude of 4500 ft, Phodong Monastery belongs to the Kargyupa sect (Karmapa). Perhaps, this is regarded as the first monastery related to the Kagyupa sect to be established in Sikkim. The Monastery is to be found a kilometer ahead of Phodong on a hill. This monastery can be reached easily by hiring private transport like taxis, jeeps, etc. from Magan in Sikkim.
Phodong Monastery is said to have been built in the early 18th century, by Chogyal Gyurmed Namgyal. However, the present structure was rebuilt in the 20th century. Today, Phodong Monastery is acclaimed to be the most beautiful monasteries in Sikkim. This beautiful monastery makes the abode of not less than 250 monks. Adorned by the old mural paintings, Phodong Monastery is the major monastery of Karmapa sub-sect of Kagyupa sect.
In the vein of Ralang and Rumtek Monastery, Phodong Monastery also hosts an annual festival, which is observed on the 28th and 29th day of the 10th month of the Tibetan calendar. At this juncture, the Chaam Dance is performed by the monks along with religious rituals at the monastery. Phodong Monastery is certainly a place worth-visiting in Sikkim.