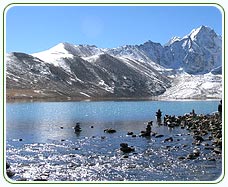 Gurudongmar Lake is the largest, perhaps the highest lake in Sikkim. The very appearance of serene waters of the lake brings a sense of relief to the beholder. Situated at an elevation of 17,100 feet (5,148 m), Gurudogmar Lake rests on the northern side of the Khangchengyao Range, in a high plateau area next to the Tibetan Plateau. Gurudongmar Lake is a watercourse of high reverence for the Sikkimese and Buddhists.
Gurudongmar Lake is conceivably one amongst the highest lakes, not only in India, but in the whole world. Gurudongmar Lake got its name from Guru Padmasambhava, who is known by the name of Guru Dongmar as well. Gurudogmar Lake is located in close proximity to the Indo-China Border in the northern part of Sikkim. Gurudongmar Lake is a sacred lake that is visited by many pilgrims place annually.
From November to Mid-May, the lake continues to be frozen with the exception of one small part of the lake that is believed to have been touched and sanctified by Guru Padmasambhava. The rivulet, budding from the lake, is one of the sources of River Teesta. The waters of this lake are said to have curative properties. Close to the lake, there is a 'Sarva Dharma Sthal' (House of worship for All Religions), where some time can be spent in peaceful meditation.
The way leading to Gurudongmar Lake is quite difficult; subsequently very few people could visit this lake every year. The right for entry is under the strict control of the Army check post at Giagong. Owing to the elevation, the place has paucity of oxygen. The visitors are recommended not to stay overnight at the place. Apart from the geographical cons, Gurudongmar Lake is a beautiful place to visit and behold the splendor of nature.