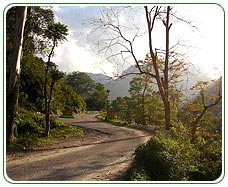 Mangan is a graceful town that is acclaimed to be the headquarters of North Sikkim District. Located at a distance of approx 65 kms from Gangtok, Mangan serves as the opening destination in the north district of Sikkim. Throughout the area of North Sikkim, hiring transport has been recommended from Mangan for the convenience of the tourists. To begin with, it would not be exaggerating to say that Mangan is a charming hamlet that is emerging as a new tourist hot-spot in Sikkim.
Set on an elevation of 3950 ft, Mangan is similar to the other small villages and towns that are on the verge of development in Sikkim. Being the headquarters of the North Sikkim District, Mangan enjoys all the political and legal influence over the region. Another interesting fact about Mangan is that it certainly boasts of numerous tourist attractions and excursions in and around the town. Mangan also has its own market that you can browse to check out the curios and souvenirs.
Pentok is another destination which you can head for, from Mangan. It lies at a distance of 2 kms uphill from the market of Mangan and could be accessible by the link road. From Pentok, one can enjoy the heavenly view of Mt Siniolchu. Mangan gets segregated by River Teesta from shoddy villages like Lingdong, Barfok and Hee-Gyathang that fall under Dzongu area. Phensong and Phodong Monastery are other complimentary attractions to be seen. Mangan is actually a beautiful place, comprising several reasons, to visit this town at least once.