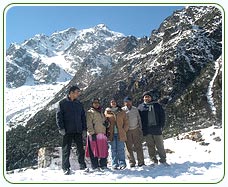 Yumesamdong is an angelic valley that is renowned for its scenic beauty in Sikkim. Elevated to the height of 15,300 ft, Yumesamdong is a place where the delicate scent of Azalea flowers pervades the atmosphere. This charming vale is located at a distance of 15 kms from the captivating Yumthang Valley. The way leading to Yumesamdong is thrilling, but the natural grandeur speckled around would definitely keep you invigorating.
Set on the brink of the Chinese border, Yumesamdong is actually a land of perennial snow. This valley is usually explored on yaks by the roving shepherds. Yumesamdong is eminent for its 14 hot springs. These springs are believed to have medicinal properties in their waters and one can get relief from skin problems after having a bath here. The water of these springs is colorless, saline in taste and emanates bubbles of hydrogen gas.
While going to Shingba Sanctuary, you can take a halt at these springs that make one feel warm in the freezing temperature of Yumesamdong. The water is also diverted into several pools that are made to avail a nice soak. These springs are often mistaken for Yumthang springs, but Yumthang has no such springs in this area. On the whole, it can be said Yumesamdong has nothing special about it, but the exotic splendor of this place is enough to keep you engrossed in its charm.