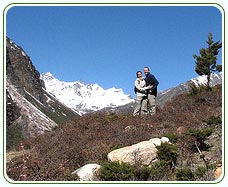 Have you ever dreamt of walking on rivers? You must be wondering what kind of question is this. Perhaps this might sound like a weird imagination. But this dream can actually be realized in Chopta Valley, a place where everything has a celestial charisma. Located in North Sikkim district, Chopta Valley is a wonderful place to experience. One can easily reach Chopta Valley from Mangan via Thangu. From Thangu, it is just a 45 minutes drive to Chopta Valley.
At an elevation of 13,200 ft, Chopta Valley is an isolated place that seems to be the alluring abode of God. Nothing can be compared to the beauty of Chopta Valley. Affluent in alpine vegetation, orchids, rhododendrons and other high altitude flora, Chopta Valley also embraces many twisty rivers. The valley is one amongst the very few reachable places in India, where you can walk over the iced up rivers in winters.
During spring, Chopta Valley actually enjoys a colorful turbulence of flowers. The Valley could also be a perfect route to way towards Muguthang Valley, which is another surprise in North Sikkim. From Chopta Valley, one can trek to Muguthang Valley that lies at an altitude of 15,500 ft. This high alpine valley is a beautiful place to view incredible vista, where snow-covered peaks, meandering rivers and alpine flowers appear grandiose all together.