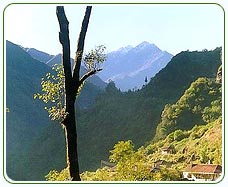 Chungthang is a small hamlet in the northern part of Sikkim, India. Sited at the convergence of Lachen River and Lachung Chu (tributaries of River Teesta), Chungthang is a place that is wholly immersed in natural beauty. At an altitude of 1,700 meters (5,600 ft), Chungthang provides a major groundwork to the Indian Army Force. Chungthang is to be found encircled by the sky-touching mountains on the way to Yumthang.
Chungthang is regarded as a consecrated place, where Guru Rinpoche went somewhere during his life. Apart from the stunning beauty, Chungthang has a legendary rock, which is believed to have been the seat of the saint for the time being. This rock is imprinted with certain marks that is said to be the footprints of Guru Rinpoche. On the rock, there is a small cavity that remains filled with spring water.
Another interesting fact about this region is that close to the rock, there is a small field where paddy grows which is definitely atypical in such stony terrain. It is believed that Guru Rinpoche had scattered a handful of grains on this spot and ever since, paddy grows here. Chungthang also acts a stopover for the tourists heading for Lachung or Lachen. From Chungthang, the road divides into two, one taking to Lachung and other to Lachen.
Chungthang is a nice place, which is inhabited mostly by the Lepchas. This small hamlet has a rich variety of flora, including rare orchids. Chungthang has not something extraordinary, but the beauty of this place allures people to take a halt before moving towards Lachung or Lachen. Come and visit this place to soak yourself in the tranquil serenity of Chungthang.