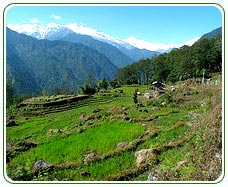 Dzongu is a place with striking beauty in the northern part of Sikkim, India. Not far away from Mangan, Dzongu is an untainted and least populated hamlet in the Himalayas of Sikkim. Earlier, Dzongu was restricted to the Lepchas, but in the recent years, it has been made accessible to the tourists. In the contiguity of Kanchendzonga Biosphere Reserve, Dzongu still looks untouched by the current evolution and time.
Here, Lepchas dominate the region with their own traditional practices and beliefs. Maximum area of Dzongu is covered by thick forests. The Teesta and Tolung, the two important rivers, gratify the thirst of Dzongu region with their rushing waters. Cuddled in the silhouette of Mt Kanchenjunga and Mt Siniolchu, Dzongu makes the perfect base for various high altitude treks in the Kanchenjunga reserves.
The Tolung - Green Lake trek is an important trek that begins from Dzongu. This trek route is one amongst the most exhausting treks in Sikkim, traversing rocky passes like Kishongla and Kishongda, which reach over an altitude of 17,000 ft. The forests in the region boast of a rich variety of flora and fauna. The trek route of Tolung Monastery would bring you to Dzongu, a region that has much more that is yet to be explored.