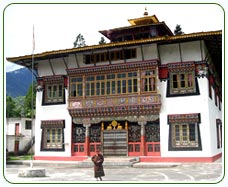 Phensang Monastery is another eminent religious place in the northern part of Sikkim. Located on the slope widening from Kabi to Phodong, Phensang Monastery can be reached easily by taking regular buses, jeeps or by hiring taxis from Mangan. The environs of the monastery are one amongst the most picturesque sites in the district. Phensong Monastery was built in 1721 during the ruling period of Jigme Pawo.
Belonging to the Nyingmapa sect of Buddhism, Phensong Monastery is famous for its annual festival that is observed on the 28th and 29th days of the tenth month (December) of the Tibetan Calendar. At this juncture of the year, 'Chaam' (Mask dance) is performed by the monks in the monastery complex. People from all parts of the state come to view this fascinating dance of lamas. Phensang Monastery is also home to not less than 300 monks of the same sect.
In 1947, Phensong Monastery came under the spell of devastating fire. After a year of this sad happening, the monks made an effort to rebuild this monastery and their efforts were proved to be fruitful in 1948. In the present times, Phensong Monastery is standing intact amidst the striking hills and spectacular landscape of the region. Every year, tourists and pilgrims from all over the world come to pay their homage at the monastery.