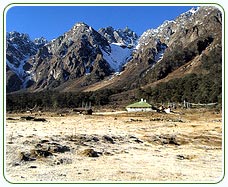 To fasten the beauty of Yumthang Valley in words would be like slighting the creator of such splendor. Yumthang Valley is just right place, where magnificence seeks no bounds. Perched at the bewildering elevation of 11800 ft, Yumthang Valley tenders an awe-inspiring spectacle of alpine pastures, rhododendron forest and snow-cloaked peaks of the Himalayas of India. For many years, Yumthang Valley had been debarred from visitors owing to its proximity with the border of Tibet.
In the northern district of Sikkim, Yumthang Valley is like a surprise that certainly deserves a visit. Yumthang Valley is easily accessible from Mangan by regular jeeps or by hired taxis. During this journey, Lachung is the last destination prior to Yumthang. Lachung lies at a distance of approx 25 kms and serves as an excellent stopover for the tourists on course for Yumthang. However, Yumthang has been made accessible to the tourists, yet foreigners are required to obtain the Inner Line Permit to enter this area.
Yumthang Valley is also known by the name of "Valley of Flowers". This bottomless vale has remarkable variety of flowers to boast of. Once again to its credit, Yumthang also embraces the world renowned Shingba Rhododendron Sanctuary in its region. A tributary of the Teesta flows through the valley and making it all the more mesmerizing in its appearance. To visit this vale, spring season is the perfect time when flowers blossoms at their best. During summers, this valley acts as a pasture land for the yaks.
Besides its astonishing flora, Yumthang also offers an eye-catching vista of peaks along with Pauhunri and Shundu Tsenpa. Yumthang is also famous for Hot Springs, but actually these springs fall in Yumesamdong region. We have covered them in a separate article. During winters, the whole valley gets enveloped in a thick layer of snow. To put succinctly, Yumthang Valley is an amazing treat where you would become the element of the ceaseless picture exclusive of any sort of infringement.