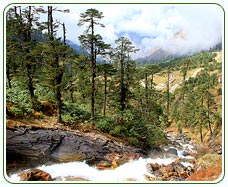 Lachung is a divine abode sited in the northern district of Sikkim. Perched at an elevation of 8,800 ft, Lachung is an ideal place to spent beautiful moments in solitude. The way to Lachung passes through quaint villages, scenic spots, and waterfalls. In recent times, Lachung has been made available to the tourists in an organized manner. It would not be embroidered to say that Lachung is actually a Shangri-La on the earth.
A visit to Lachung is certainly a rare opportunity to comprehend Sikkim in the best possible manner. The term 'Lachung' literally means 'Small Mountain". Lachung is one amongst the most beautiful villages that is adorned with the vista of snow-capped mountains, astounding waterfalls and dazzling streams. This place of incredible splendor has been affirmed as the "most picturesque village of Sikkim" by Joseph Salton Hooker in 'The Himalayan Journal' (1855).
In winters, the whole gorge gets a celestial look when draped by a thick layer of snow. Dominated by the Bhutias, Lachung also has an army cantonment for the protection of border. On the way to Yumthang, Lachung is the last village in the northern part of Sikkim. Yumthang Valley is sited just at a distance of 25 kms from Lachung. It actually offers a perfect base for the travelers heading to Yumthang Valley.
Before 1950, Lachung served as the trading post between Sikkim and Tibet. After its closure, the town remained intact under its own spell. With the promotion of tourism, Lachung has got recognition and people all over the Globe come to visit this striking town. In order to visit Lachung Monastery, you are required to come in the opposite slope of the highway.
In Lachung, you can check out the monastery, handicraft centre and move around the village to get the glimpse of its culture. If trout fishing would be of interest to you, then you can try this adventure in Lachung. Shingba Rhododendron Sanctuary is another major attraction that is located in the close proximity of Lachung. To wrap up, it could be said that Lachung is definitely worth a visit to experience the heavenly bliss on the earth.