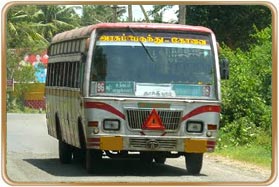 A perfect halt for spending your holidays, Masinagudi in Tamil Nadu is a popular tourist spot as much for its exotic locales as for presence of some exotic wildlife including many endangered animal ad bird species. The quaint town is ideal to haunt for nature lovers and wildlife enthusiasts. Being a border town of Tamil Nadu, Masinagudi can be easily reached from the adjoining states of Karnataka and Kerala. Below mentioned are the means of travel to quaint town of Masinagudi based in Tamil Nadu.
Traveling To Masinagudi
By Air
The nearest airport to Masinagudi in Tamil Nadu is Coimbatore at a distance of 140 kms. Coimbatore Airport is 12 km from the city and is well connected with Mumbai, Chennai and Kozhikode (Calicut). One international flight to Sharjah (UAE) is also operating from here.
By Rail
The nearest railway station to Masinagudi is the Mysore railway station, which is at a distance of 90km. Passenger and express trains link Mysore with Bangalore, Chennai and other prominent places. The super fast Shatabdi Express connects Mysore to Chennai.
By Road
From Bangalore (260kms), you can take the state run buses or hire private taxis to reach Masinagudi. An alternate route from Bangalore begins from SH 17 and then shifts to NH 212 from Mysore via Najangud and then to NH 67 to Bandipur leading to Masinagudi. From Coimbatore, take SH 67 to reach Masinagudi. You can also reach Ooty (36 kms) and drive down to Masinagudi.