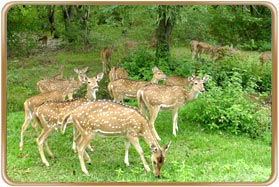 Masinagudi is one of the highly preferred holiday destinations in Southern India because of its exotic locales and extensive wildlife presence. Tourists have an exciting range of options to see in and around Masinagudi for a wholesome experience. Loaded with an enticing natural appeal, Masinagudi is one of the dream vacations one can think of. It is, especially, a sought-after destination for nature lovers and wild life enthusiasts. Below mentioned are some of the tourist attractions to check out in Masinagudi, a place most known for its beguiling beauty.
Places To See In Masinagudi
Mudumalai National Park
One of the major tourist attractions in Mansagudi is the Mudmalai National Park which is located at a distance of 15 kms from Mansagudi and has now been declared a tiger reserve. One has a chance to spot large herds of Asian elephants, bison, and spotted deer. The sanctuary can boast of tigers, leopards and many other rare wild animals. It is also home to around 266 species of birds including the endangered black and orange flycatcher. With some exclusive flora and fauna to sight, Mudumalai is certainly a huge attraction around Masinagudi.
Bandipur National Park
In close proximity to Masinagudi is the Bandipur national park, one of the famous protected areas of India located at a distance of 25 kms. It also an important Project Tiger Reserve. A safe heaven for a range of wild animals including around 70 tigers and a large number of Asiatic elephants, Bandipur is a treat to watch for animal lovers. It is also home to over 300 bird species, an exciting option for all the birdwatchers. Animals like elephants, panthers, Jackals, spotted deer, sloth bears, grey langurs and snakes from cobra to the python can be sighted in the park
Himavad Gopalaswamy Betta
A famous hilltop, Himavad Gopalaswamy Betta is also one of the attractive features of Mansagudi. On the top of the hill is a temple dedicated to Lord Krishna. A beautiful mist covers the area for most part of the year. In fact, there is a greater chance of sighting animals from this hill top as the neighboring area extends to the Bandipur National Park.
Ooty
A day trip to Ooty which is located at a distance of 36kms from Masinagudi can be a golden opportunity to experience the spotless beauty of this extremely popular hill station in India. Explored by the British, Ooty has some renowned botanical gardens and museums etc. Boating in the lake is, yet another, interesting option. Ooty also offers a range of exciting shopping options to the shopping buffs.