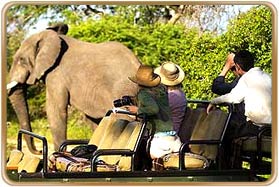 Masinagudi is one of the most promising destinations for a memorable sojourn amidst the natural splendor of this wondrous town. Quaint and serene, the small town will easily lure you with its obvious natural charm. Unruffled with multitude of wild life taking refuge in its dense forests, the soothing calmness of this place is enticing for those who wish to spend a quite holiday surrounded by lush green environs. The article lists some of the fun activities to do in Masinagudi to make your vacation trip a lifetime experience.
Fun Activities To Do In Masinagudi
Wildlife Viewing
The dense forests in Masinagudi are a safe haven for a variety of wild animals. For the wild life enthusiasts, it's one of the ideal destinations to view some exotic wildlife including elephants, spotted deer, wild boar and bear etc. Animal lovers can see animals venturing out on the forest tracts or simply relaxing in the natural environs of Masinagudi forests.
Safaris
The national park in Masinagudi organizes van safaris to some sanctuary areas. The timings for the safari are 6-8.30 in the morning and 3-6 pm in the evening. The rides last for about 45 minutes to 1 hour. Spotting wildlife in the jungle is very common on the back of an elephant. The elephant ride is to be accompanied by the mahout who will ride resident elephant on different tracks which are not covered by the van safari and chances are high that you will be able to sight the wild life from close quarters.
Elephant Camps
There is an elephant camp in Masingudi forest managed by the forest department. The elephant camp boasts of 29 pachyderms that are trained and cared for by the forest authorities. To witness the elephants giving a thorough cleaning and offering pooja to the diety, will be quite an amazing experience.
Trekking
Trekking in the virgin forests of Masinagudi through the dry deciduous tracks taking a peep into the immense natural wealth of flora and fauna will be a thrilling experience for the nature lovers. The chances to spot wild life and exotic birds are significantly increased while you trek in Masinagudi. One could also trek through the open meadows alongside the water bodies such as streams and river.
Nature Walks
Nature walks in Masinagudi will be the perfect way to unwind in the stimulating and uplifting companionship of nature. The topography of the area is distinctive with patches of grasslands, scrub jungles and deciduous forests all over the place which makes it a perfect halt for environmentalists as well.