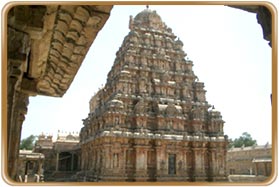 The temple architecture reached its zenith during the rule of the Chola rulers. Thanjavur, being the capital of the Chola rulers, witnessed most of the architectural activities. The Airavatheeswara temple, located at Dharasuram is one such example. The great Chola ruler, Raja Raja II built the Airavatheeswara temple, which has now been recognized as a world heritage monument by the UNESCO. The Airavatheeswara temple is an outstanding example of the pure form of the Dravida type temple.
Structure of the Airavatheeswara Temple
The Vimana (tower) of the temple rises to a height of 23 meters. The sanctum sanctorum of the temple is nirandhra i.e. without the circumambulatory passage. There is an ardha Mandapam, and a 100-pillared Maha Mandapam in the temple.
The outer walls of the Maha Mandapam and the garba griha have finely carved sculptures. Besides these, the pillars supporting the Maha Mandapam, the inside of the Maha Mandapam and the walls of the prakara (enclosure) have beautifully carved panels.
In the southwest part of the prakara, a lady's acrobatics have been chiseled out to symbolize four in one. The statue of Annapoorani in the ardha Mandapam is a wonderful piece of sculpture, the face glowing in smile, the left hand carrying a brass vessel and the right holding a lotus. The eastern and western sides of the Maha Mandapam contain Ratha-like side projections that are characteristic of 12 other Chola temples at Chidambaram, Tiruvarur and Melakadambur.
How to Reach the Airavatheeswara Temple
Road
The nearest town, Thanjavur has road links to all the major cities in Tamilnadu and neighboring states.
Rail
Connected by rail with Trichy, Madurai and Chennai directly.
Air
The nearest airport, Tiruchirapalli, is 58 km away and connects important cities of Tamilnadu and neighboring states.