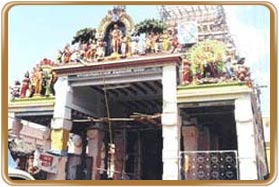 The Swamimalai temple is one of the six shrines dedicated to Lord Subramanya. The Swaminathan temple is associated with the legend of Skanda having re-initiated his father Shiva, with the concept of the oneness of creation of Omkaram. The temple is built on an artificial hill, approached by a flight of steps. The presiding deity at the Swamimalai temple is worshipped as Swaminathan. The Swamimalai temple has three 'gopuram' with three 'praharam'. The 'gopuram' on the southern side is decorated with statues and has five storeys while the other two entrances have no gateways above them.
Mythology and History
According to mythology saint Bhrugu, prior to an arduous penance, got the blessing that anybody disturbing his mediation will part with all his/her knowledge. The penance proved so powerful that the holy fire emanating from the head of the saint Bhrugu reached up to the heavens, which scared the Gods who prayed to Lord Shiva seeking his mercy. Lord Shiva extinguished the sacred fire by putting his hand on saint's head. As a result of it lord Shiva parted with all his knowledge and regained them by learning the Pranava mantra from Lord Muruga here.
There is another interesting legend behind the Swaminathan temple at Swamimalai. Once Brahma, the lord of all creations, was proceeding to Kailasa, when child Lord Muruga asked him the meaning of the Pranava OM. When Brahma failed to answer, Murugan imprisoned him. Lord Muruga agreed to expound the meaning of OM to Lord Shiva if he accepted him as guru and listened to the exposition as a committed disciple. It is the reason why the place came to be known as Swamimalai and the presiding deity at the temple as Swaminathan.