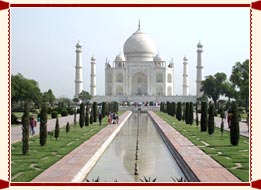 A visit to the Taj Mahal is worthless unless you are familiar with the history of this monument. Known as the undying symbol of love, the origin and history of Taj Mahal goes back to the early 17th Century. This wonderful piece of art in white marble was built by the fifth Mughal Emperor Shah Jahan in the memory of his beloved wife Mumtaz Mahal. Though Shah Jahan had many wives, Mumtaz Mahal was his favorite wife. She was not only a companion in good and bad times but also a sound advisor to her husband. Read on further to know about Taj Mahal history.
In the year 1612, Prince Khurram (Shah Jahan's name) married a beautiful Persian princess Arjumand Bano. She proved to be his better half and never left her husband's side in any situation. She even followed him on his military expeditions and hunting journeys. She gave him so much love that Shah Jahan was motivated to lead life in a benevolent and compassionate way. He regularly donated money and other necessities to charities and made sure that people in his kingdom never had a complaint.
While accompanying Shah Jahan on one of his camps, Mumtaz Mahal breathed her last while giving birth to their 14th child. Shah Jahan was devastated and was so heart broken that he locked himself up in a room for two years. The whole court and empire went into mourning when Mumtaz Mahal died. It is said that when Shah Jahan finally emerged after two years of mourning, his hair had turned white. Shah Jahan was determined on building the most beautiful monument as a symbol of his undying love for his wife. Thus began the construction of the Taj Mahal.
A council of the finest architects from across continents was appointed to design the Taj Mahal. The chief architect for building the monument was a Persian by the name of Ustad Isa. He alongwith his devoted pupil, Ustad Ahmed started the construction of this monument. Though the credit of designing the monument goes to Ustad Isa, the dome was designed and decorated ornately by Ismail Khan. A workforce of around 20,000 craftsmen from across the country was employed and it took a period of around 22 years to build the monument. When the monument was finally built, the grave of Mumtaz Mahal was shifted to the grave chamber in the lower part of Taj Mahal.