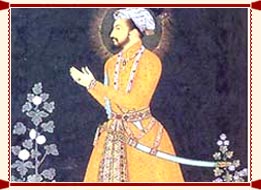 Shah Jahan was the fifth Mughal emperor and reigned from 1628 to 1658. His name literally means "King of the World". Shah Jahan is credited with having moved the traditional capital seat of Muslims from Agra to Delhi. His reign saw the construction of many architectural splendors. Not only did he build the eternal symbol of love, Taj Mahal, but also built a series of palaces and tombs in Delhi. One of the major tourist attractions of Delhi, the Red Fort was built by him as his own palace. We attempt to provide a short biography of Shah Jahan, which will provide information about Shah Jehan life history.
He shifted his capital from Agra to Delhi and began a whole chain of constructing monuments in the city. Delhi was an important city politically and was also easily accessible as it was located at a very strategic location. Shah Jahan built the Red Fort for himself and also got made the magnificent Peacock Throne, which was considered to be one of the most beautiful thrones that was ever made. It is estimated to be worth millions of dollars in today's world.
Shah Jehan was an apt architecture with a keen sense of observation and foresight. The most beautiful monument that he made is of course the Taj Mahal. It was built in the memory of his favorite wife Mumtaz Mahal. It took almost the entire treasury and 22 years to get the wonderful monument constructed. By the time Taj Mahal was constructed, Shah Jahan had lost the will to fight and was imprisoned by his own son. He died alone in the year 1666.