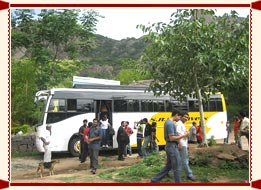 Reaching Taj Mahal of Agra is not a problem at all. The city of Taj Mahal is easily reachable from anywhere in India. The Taj Mahal is really famous and is considered to be one of the most visited tourist attractions of the world. So getting to Taj Mahal should not be a concern. However, if you are still wondering as to how to go about it, read this section on "how to reach Taj Mahal".
By Air
The airport of Agra is known as the Kheria Airport and is located at a distance of around 6 kilometers from Taj Mahal. There are many flights that operate from nearby places like Delhi that fly on a regular basis to Agra. The airport can be easily reached from anywhere in Agra by hiring auto rickshaws and taxis / cabs.
By Rail
Agra can be easily reached by trains from nearby places. Trains ply on a regular basis from many nearby cities. There are three railway stations in Agra namely:
Agra Fort Railway station
Agra Cantt Railway station
Raja ki Mundi Railway station
By Road
Agra is well connected to the rest of India by a wide network of roads. It can be easily reached by hiring cabs. Many private as well as government tour operators provide tourist buses from nearby cities on a daily basis. National highway numbers 2,3 and 11 pass through the city.