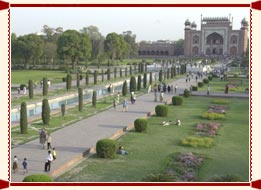 The Taj Mahal gardens add even more splendor and beauty to the monument. The Taj gardens are beautifully maintained by the concerned authorities. These gardens are called as Charbagh gardens as the main garden is divided into four parts. The garden is beautifully decorated with trees and fountains and perfectly manicured grass makes it look no less than Paradise. There is a marble water tank right in the center of the garden in which the reflection of Taj Mahal looks absolutely photogenic.
The Taj Mahal garden is supposed to be a version of the gardens in heaven or Paradise and the concept of Charbagh was introduced by the first Mughal emperor of India, Babar. This concept actually originated from the gardens of Persia, which are supposed to symbolize the gardens of Paradise. The gardens in Paradise are supposed to be abundant in water, milk, honey and wine. The four sections of the Charbagh gardens are symbols of these four elements. Water is of utmost importance in the gardens and care is taken that the Taj Mahal gardens are never dry.
The garden also has rich vegetation that is looked after with much care and devotion by the dedicated authorities. Though the British have modified it during their rule in India, the gardens still look stunning as ever before. The vegetation includes rows of sweet smelling roses, daffodils and trees that bear fruits. There are also ornamental plants that are planted to add to the already existing beauty of the gardens. A visit to the gardens is a must to soothe your eyes in the lush greenery.