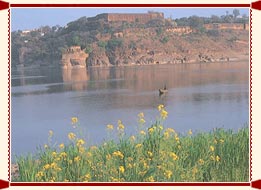 Chunargarh is located just 45 odd kilometers from Varanasi and falls in Mirzapur district. The city has a very deep historical importance because of the Chunar Fort that stands just off the town. It is said that Maharaja Vikramaditya, the king of Ujjain established the fort of Chunar as back as 56 BC. King Sahdeo who also built a stone umbrella like cenotaph inside the fort in order to commemorate his victory over 52 different rulers later inhabited it.
The Chunar fort also got famed because of its association with Mogul ruler Babur and Afghan Governor Sher Shah Suri. Sher Shah Suri got the possession of this fort after marrying the widow of Taj Khan who was the Governor of Ibrahim Lodhi. Emperor Humayun made an attempt n the year 1531 to capture the fort but was ruthlessly and convincingly vanquished by Sher Shah. It was later won by Akbar in the year 1574 but only after Sher Shah Suri died in an accident. It remained under the Moguls till 1772 AD after which, The East India Company annexed it.
The fort is famous for its fusion architecture. Though the fort is not very impressive in itself, some parts will surely catch your eyeballs. For example there is a defunct sundial that was most probably commissioned by King Vikramaditya. There is a very huge and deep well too, which was probably the source of water for the residents of the fort. The west embankment of the fort offers a splendid view of the Ganga. The northernmost point of Kaimur Hills offers an impressive view of the invincible sandstone battlements of Chunar that overlook a bend in the Ganges.