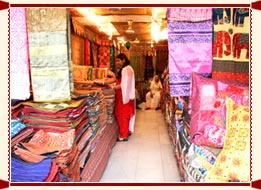 Benaras or Varanasi has the pride of being the one of the most famous Handloom centers in the entire world. In fact it is among the few centers in the world that has painstakingly preserved the ancient tradition of hand weaving. In fact, in spite of persistent assault by technology, globalization and market forces Benaras stuck to handloom and didn't switch to Power loom as some other famous centers such as Malegaon, Bhiwandi and Murshidabad did. The main products in Varanasi are Zari and brocades.
Brocades are actually textiles woven with warp & weft threads of different colors and often of different materials. The brocades are woven in silk with profuse use of metal threads in 'Pallars' (end pieces) and the field of the Sarees. These Sarees have been named Banarasi Sarees and are the most popular and beautiful Saree in India.
This tradition is very old and none can rightly predict the date when it was first started in Benaras. The weavers are mainly Muslim and are known as 'Karigars' that means artist. The most important materials in this artwork are yarns and threads. These Zari thread consists of finely drawn gold, silver or base metal threads wound round as silk thread. Silk traditionally came from Bengal, Central Asia and Italy but now it comes from either Malda in Bengal or Ladakh in Kashmir.
Some of the varieties of silk that are used here are Jandhuri, Banaks, Mukta and Sandal. The deep red, golden Zari saris are popular with nearly all the brides in India. The design motifs of these brocades are intricate floral and foliage patterns, Kalga and Bel. As far as Banarasi Sarees are concerned, the Pallars and Dupattas are decorated by a string of upright leaves called Jhalar.