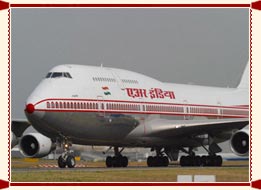 Varanasi is sometimes referred as the cultural capital of India and the melting pot of Indian civilization. Varanasi or Benaras has a well-developed transport network and is well connected to all the major Indian cities and states by air, road and rail.
By Air
Varanasi is connected to major Indian cities and tourist spots through air service. There are daily domestic flights to and from Varanasi to several cities in India. Apart from the state owned Indian Airlines, there are many private air taxi operators that offer their services from Varanasi to other Indian cities.
By Rail/Train
Since Varanasi lies in the heartland of the North Indian plains, it is well connected to Delhi, Kolkata, Mumbai and other parts of India. There are two railway stations in Varanasi, the Kashi Junction and the Varanasi Junction that is also called Varanasi Cantonment.
By Road
Situated in the flat Ganga plains, Varanasi has a good network of roads. Numerous public and private buses ply to and from nearby and far-flung cities. Uttar Pradesh State Road Transport Corporation runs a fleet of well-maintained buses apart from the luxury coaches offered by private operators.