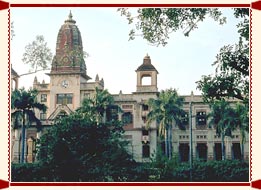 Varanasi has a reputation of being a center of learning since time immemorial. The city in the past has been home to several educational institutions of repute. It is not surprising that the city still boasts off as many as 6 different universities; a feat almost unachievable in India. Nevertheless, the most important and prominent among these is Banaras Hindu University of BHU. It is sometimes also called Banaras Hindu Vishwavidhyalaya.
BHU was built in the year 1916-1917 under the special act of parliament passed in the year 1915 named BHU act. The act was passed by the interim parliament that worked under the imperial British government. Mahamna Pundit Madan Mohan Malaviya and Annie Besant did the conceptualization and implementation of this university. Raja of Kashi donated 1350 acres of land for the construction of the sprawling campus.
BHU is the largest residential university in Asia. It has been developed as a center for education in Indian art, music, culture and philosophy and for the study of Sanskrit. The campus also houses the Bharat Kala Bhawan that has a fine collection of miniature paintings and sculptures that dates from 1st to 15th centuries. The 5-square kilometers campus of BHU, houses as many as 55 hostels. The campus has other attractions too such as the Birla Mandir that is popularly called VT. Close by is an airstrip and a flying club. The central library named Sayajirao Gaekwad Library is also worth a visit. Apart from various manuscripts and periodicals, it houses as many as 14 lacks or 1.4 million separate volumes. There is a 1000 bedded hospital too. It is called Sir Sunder Lal Hospital. Apart from concrete buildings, the campus features open spaces, greenery and peacocks, the national bird of India, which are found roaming around almost every part of the university.