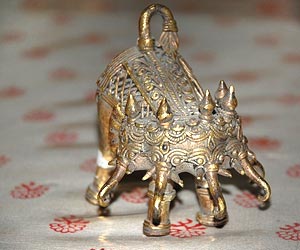 Dokra metal craft is regarded as one of the most famous arts of West Bengal. It is involves the making of statues, jewelries, idols and many other decorative pieces, with the help of clay, wax and metal. Apart from West Bengal, the craft is also famous in other Indian states, like Andhra Pradesh, Madhya Pradesh and Orissa. The word 'Dokra' was earlier used to refer to those craftsmen who used to practice this art. Gradually, this word came to symbolize the craft as well. The tourists coming to West Bengal, be it local or international, get captivated with the rustic and pastoral charm of this art.
The process of making this craft is a bit complicated. First of all, the craftsman has to create a sample of the item in wax form, with a hole for the metal to be poured in. The wax mold is covered with a mold of clay. He, then, melts the metal needed for making the item. The molten metal is poured into the hole in the wax mold. After the metal hardens, the clay is broken away and the metal object is taken out of the shell. It is then finished to perfection.
Apart from deity idols, Dokra craftsmen make figures of birds and animals and santhal jewels, like anklets and tinkling dancing bells. They also make decorative pieces, like lamp holders, lamps, chains, vases and stands. The art is very ethnic and boasts of real folk essence. It is very much in demand in the domestic and foreign markets, because of its primeval simplicity and beguiling folk motifs. One more specialty of Dokra metal craft is that each item is exclusive and making its exact replica is nearly impossible. You can get the best Dokra crafts in Bankura, Birbhum, Burdwan and Midnapur towns of West Bengal.