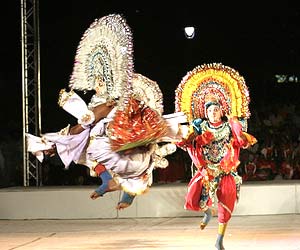 Chhau Dance is one of the most renowned tribal martial dances of India. The dance is known as Seraikella Chau in Jharkhand, Mayurbhanj Chau in Orissa and Purulia Chhau in West Bengal. Since the dance is supposed to have originated in the Purulia district of Bengal, it is known as such in the state. Purulia Chhau dance differs quite a lot from its counterparts from other states of India and has distinctive characters of its own. It is internationally renowned for its beauty and perfection.
Purulia Chau is performed on the Sun festival, which falls in the Chaitra month of Hindu calendar i.e. March-April as per the Gregorian calendar. However, it is not limited to the festival; the dance can be performed on other occasions in the state as well. For instance, on Republic day of 1995, Chau dance was the approved theme of West Bengal's tableau. The dance is basically themed on the epical stories of Ramayana and Mahabharata. The most popularly used themes (ragas) are Vira and Rudra, symbolizing power and strength.
In the countryside performances of Purulia Chhau, there is no elevated stage and the dancer performs on the flat ground, with people sitting encircling them. While performing in some show or on a wider platform, an elevated stage is used for the performance. The dance is accompanied with loud beats and triumphs and instruments like drum and marui. It starts with a drum beat, followed by an invocation to Lord Ganesha, the Hindu God of Wisdom. The dancer is supposed to wear heavy colorful head masks and perform the steps with vigor.