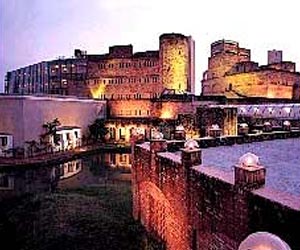 At just 50 km from Kolkata, Raichak is one of the best places to relax and rejuvenate oneself from the maddening crowd of the city. With a calm and satisfying climate, the riverside picturesque makes Raichak a place worth visiting. Sit by the river, watch the sunset or enjoy the boat rides, there is enough that Raichak offers, to keep tourists on their toes. Apart from the glorious views of the river Hooghly, Raichak has more for you to explore here. Read on further to find the details of the places to be visited in Raichak.
Places To See In Raichak

Fort Radisson
The main attraction of Raichak is the Fort Radisson that is sure to raise your eyebrows. Initially a fort, it has now been converted into a stylish and elegant 5-star hotel. Visit the fort and relish the luxuries offered here, just to recreate you. Do not forget to check out some treasured memorabilia of the bygone era that includes a grand piano, a clock, swords and perfume bottles.
Diamond Harbor
One of the famous harbors of India, the Diamond Harbor is just 15 km from Raichak on the banks of river Hooghly. A very popular tourist destination, tourists can take a ride on one of the river cruises here. People searching for places with a historical background can visit the ruined Portuguese fort which also has a light house. In case you have been wondering why there are no temples at this junction, do not worry. Lord Buddha's statue is just the perfect stop for you.
River Hooghly
Treat your eyes by walking along the river Hooghly and admire its natural scenic beauty. Do not hesitate to take a dip or two in the cool waters of the river. Enjoy sunbathing, surfing and waterskiing too. It is sure to mesmerize you and leave you packed with memories of the beautiful picturesque.