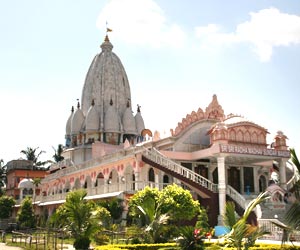 Location:
Gital Para, ISKCON Temple Road
Dedicated to:
Lord Krishna
International Society for Krishna Consciousness, more popularly known as ISKCON Temple, is one of the prominent places of interest in Siliguri. Sited at Gital Para, ISKCON Temple Road, the temple is characterized by purity, serenity and sublime beauty. Also known as Hare Krishna Movement, ISKCON temple in the city is the biggest Krishna centre in the whole of the Northeast India. Completely dedicated to Lord Krishna, the temple attracts thousands of devotees from all over the country.
An embodiment of peace and beauty, ISKCON Temple enshrines Radha Madhav idol and an image of Lord Krishna with Radha. Along with this, the temple is also home to a number of spellbinding idols, some of which are those of Advaita Acharya, Lord Narasimha and Lord Chaitanya. Though the temple is constructed in a modern architectural style, it has managed to retain the ancient Indian customs of 'Vashtuhaara'.
Facilities
Auditorium
ISKCON temple in Siliguri houses a well-equipped auditorium. With a seating capacity of 500 to 600 people, the auditorium offers an excellent place to hold meetings and conventions. To use the auditorium, all you need to do is seek permission from the temple president.
Govind's Restaurant
A simple eatery, Govind's restaurant is the perfect place in ISKCON Temple, to indulge in yoru favorite delicacies. The best feature of this restaurant is that it not only serves authentic yummy delights, but also hygienic food, that too in a clean surrounding.
Guest House
The temple has a small guest house for those who want to reside within the premises. Boasting of a serene and tranquil ambience, the guest house presently has 10 rooms, of which only 5 are operational. The temple authorities have plans to increase the number of rooms in the guest house, gradually.
Timing
05.00 am - Mangal Arati
06.30 am - Srimad Bhagavatam Class
07.30 am - Sringar Arati
07.40 am - Guru Puja
12.30 pm - Raj Bhog Arati
01 pm to 4.30 pm - Rest
04.30 pm - Dhoop Arati
07.00 pm - Sandhya Arati
08.00 pm - Srimad Bhagavad Gita Class
08.30 pm - Shayan Arati
08.45 pm - Time of Closing Door