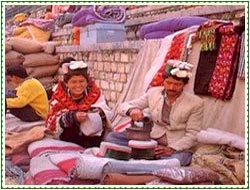 Lavi Fair of Himachal Pradesh is organized annually in Rampur, on the banks of River Satluj. It is held in the month of November and has already attained international fame and renown. Lavi once served as a major trading center and the stopover point on the old trade routes that led to Kinnaur, Tibet, Ladakh and Afghanistan. The fair that takes place there also finds a mention in the records of the erstwhile state of Bushair. It is said that, during the reign of Raja Kesar Singh, a trade treaty was signed between Bushair and Tibet, as a sign of friendliness
Horses and swords were also exchanged between them. It is since that time that International Lavi Fair is being celebrated in the town. Earlier, the traders from Tibet and Kinnaur used to put up their stalls at the fair. However, this practice stopped with the Chinese occupation of Tibet. Now, efforts are being made to revive the pristine glory of the fair. Traders come to the Lavi Fair to sell quilts, utensils and other consumer goods.
Amongst the things one can buy at the fair, the most popular ones are 'Pashmina' wool, dry fruits, 'Chaumkhi' horses that are surefooted and abound in the surrounding tribal areas and a variety of native handicrafts. Tribals trade agricultural produce, dry fruits, woollen pattoos and kala zira here. Last but not the least; you can also buy Chinese products at the International Lavi Fair, such as jackets, tracksuits and crockery.