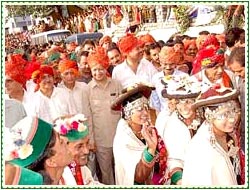 Minjar Mela is celebrated in the Chamba valley of Himachal Pradesh, as a commemoration of the victory of the Raja of Chamba over the ruler of Trigarta (now known as Kangra), in 935 AD. It is said that on the return of their victorious king, people greeted him with sherfs of paddy and maize, as gift to symbolize prosperity and happiness. Minjar Mela is organized in August to thank God and ask His blessings for a good yield. The fair stretches on for a week and its main highlights are folk singing and dancing. The offerings include a rupee, a seasonal fruit, a coconut, and a 'Minjar', made up of sherfs of paddy and golden silk wrapped in red fabric.
Earlier, a buffalo was also sacrificed at the time of the Minjar Fair, though the practice has now been discontinued. It was said that the sacrifice of the buffalo to river Ravi could predict the fortune of the area in the coming year. If the torrential flow of river waters carried away the buffalo or if it was drowned, then it was considered to be a good sign as the sacrifice was considered to have been accepted by the deity. If it struggled away to safety at the other shore of the river, it was again a good sign as it was considered that the bad luck has now been transferred to the other bank of the river.
However, if the buffalo swam its way back to the place from where it was thrown into the river, it was considered as a very bad omen. The fair is organized when the young paddy and maize shoots emerge from the soil. Everyone who visits the Manjar Mela wears the symbol of Minjar, consisting of a corncob normally made of silk. On the first day of the fair, the idol of Lord Raghuvira is brought to the venue in a chariot pulled by ropes. In the procession, the Lord is accompanied by more than 200 local deities of the surrounding areas. There festivities of Minjar Mela go on for a week and comprise of folk dance and music performances of, such as 'Kunjari Malhar'
During the fair, the entire valley of Chamba comes to life. On the final day, there is a huge procession from the Akhand Chandi Palace to Rive Ravi, where the offerings are made to the river. An interesting legend related to the Minjar Fair goes that once River Ravi used to flow near the Hari Rai temple. Raja Sahil Verman requested a sage, who used to cross the river everyday, to pray to the Lord to make the temple accessible to everyone. After a week of Yajna and weaving of a long cord made of paddy shoots, which was the original 'Minjar', the sage finally managed to change the course of the River Ravi.