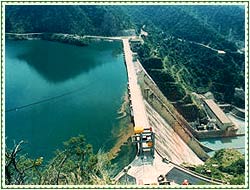 With its vast water reservoir and attractive location, Bhakra Nangal Dam attracts a large number of tourists. Water flowing from great height and at great speed leaves a spectator amazed. Himachal Pradesh Travel and Tourism Department has turned the place into a good picnic spot. The site definitely generates awe in tourist visiting the dam, who can opt for the rest houses located near it. The place also houses a natural fall, which is the main source of hydro-electricity generated by the Ganguwal and Kotla power plant.
Bhakra Nangal Dam, is situated at a height of 226 m above sea level, stuns the visitor with its sheer height. The 90 km long dam is spread over an area of 168 sq km and is a combination of Bhakra dam and Nangal dam. Bhakra dam is 13 km upstream from Nangal city and Nangal dam, on the other hand, is 13 km down-stream. The construction of Bhakra Nangal Dam was started in the year 1948 and was completed by the end of year 1963.
Engineering comes to perfection in the Bhakra Dam, which serves as the hallmark of science and modern technology. It is virtually the central nervous system of northern India, supplying electricity to the entire region and helping run industries, corporate houses, etc. The dam is constructed across the perennial river Satluj and stands located in the midst of the natural beauty of Shivalik ranges. The place offers an excellent spot for a day's picnic.
Described as 'New Temple of Resurgent India' by Nehru - the first Prime Minister of India, Bhakra Dam was a part of the larger multipurpose Bhakra Nangal Project, whose aims were to prevent floods in the Sutlej-Beas river valley, to provide irrigation to adjoining states and to provide hydro-electricity. Besides, Nangal hydel Channel and Anandpur Sahib Channel are used for power generation and irrigation purpose. The place is well connected with Chandigarh city, which is 105 km away.