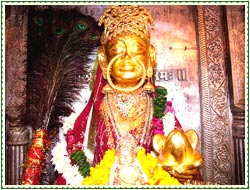 heetla Mata Temple is situated in a village named Jangla, at a distance of approximately 1.5 km from Gehrwin, Bilaspur. Like the Golden Temple of Amritsar, this temple is also built in the middle of a tank. A pathway made up of concrete leads one to the temple. It is said that the magnificent idol of the deity installed here was sculpted at Makhowal, near Anandpur Sahib. Goddess Sheetla Devi is believed to be the younger sister of Goddess Badol Devi and symbolize power and peace.
It is said that the Goddess likes cool and peaceful surroundings, where there is water all around, and detests any type of heat. She is known to ward off heat from the body of a person. In many parts of India, it is believed that diseases like small pox and chicken pox represent the manifestation of the Goddess in a human's body. Though Shitla Mata Temple of Himachal Pradesh is relatively new, it is quite popular amongst the natives
They believe those who pray at the temple with utmost devotion and faith are granted their wishes by the Mata. According to a legend, a resident of Jangla dreamt that the Goddess has asked him to install Her idol in a place with water in abundance. He initially thought of a pond, where he could install the idol of the Goddess. However, he was led to this place and was advised to dig there and carry out Goddess' wishes. This is how the Sheetla Mata Temple came into being.